Braves Vs Marlins Saturday April 6
Game starts at 7 pm  Tickets are $13 per person
for more details call Tracy S. 6789134417
---
Consensus Based Decision Making Workshop led by Joe B.
Sunday April 7 2019 at Area Service Committee Meeting
starting at 3 pm at Snellville United Methodist Church
2428 East Main Street Snellville GA 30078 Bldg H.
---
May 4th 2019   12 -6 pm East End Area Block Party
At 1258 Irwin Bridge Road  Conyers GA 30013
Contact Tracy at 675 913 4417 for more details
---
NEW GROUPS IN EAST END AREA!
WE ARE GROWING !!!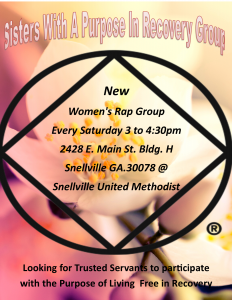 ---
A Touch of Hope
         Gran Recovery Center      
         115 Kirkland Road, Apt F
          Covington, GA 30016
_______________________________________
To submit an Event to the EEASCNA Events Calendar :
You May submit Your Event Electronically Online by

Clicking HERE to Submit Your Event Online!
OR Download The Paper Event Submission Form Below
Once Completed, Give To Your GSR to Take to ASC or attach PDF & E-MAIL to [email protected]